The Post Graduate Council consists of 27 regular P.G. Departments. It is headed by Chairperson, P.G. Council with Warden, P.G. Hostels and all Heads of the Department as members. The Administrative Officer is the Secretary of the P.G. Council. The office of Post-Graduate Council is known as P.G. Central Office. There is one administrative office, Placement cell and  three sections, i.e., Administrative Section, Academic Section & Accounts Section besides Chairperson's Office. 
The Post-Graduate Council performs the following functions :-
General policy matter in regard to Post-Graduate studies and research
Principles for selection of students for admission into different courses
Principles for the award of scholarships
Conduct of Semester Examinations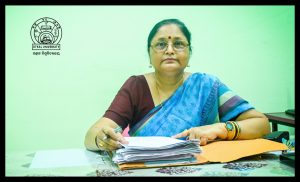 Dr. Navaneeta Rath,
Chairperson
Conduct of entrance test for admission to self-financing courses ( Not covered under Common P.G. Entrance Test through  Higher Education Department Govt. of Odisha )
All matter concerning students including placement & training
Maintenance of discipline among the students in the campus
Principles for admission of students to the hostels along with fees-structure.
Preparation of holidays list for P.G. Council, Publication of magazines and Information Bulletin etc.
All other matter to be assigned to the Council from time to time by the Vice- Chancellor or the Syndicate.
PG Council Staff
Information Bulletin
Documents
Committes/Cells
Proceedings
Notice and Circular
PG Council Staff
| Sr. No | Name | Designation | Mobile | Email |
| --- | --- | --- | --- | --- |
| 1 | Smt. Lopamudra Mishra | Section Officer, Admn. & DDO (I/C) | 7978155311 | |
| 2 | Sri Makardhwaj Nayak | Section Officer, Academic Section | 8249113738 | |
| 3 | Sri Sabita Sundar Lenka | Section Officer, Accounts Section | 9778420255 | |
| 4 | Sri Ajaya Kumar Nayak | Senior Assistant, Academic Section | 8249312711 | |
| 5 | Vacant | Sr. Steno | | |
| 6 | Smt. Susila Mallick | Jr. Assistant, Administrative Section | 8327767305 | |
| 7 | Smt. Kalpana Behera | Jr. Assistant, Administrative Section | 9040770939 | |
| 8 | Smt. Tunibala Pati | Sr. Typist, Academic Section | 9337267812 | |
| 9 | Sri Pratap Das | Sr. Typist, Administrative Section | 9861193739 | |
| 10 | Sri Manas Ranjan Rath | DEO, Academic Section | 7751958822 | |
| 11 | Sri Basudeb Behera | Jr. Recorder,Academic Section | 8093578154 | |
| 12 | Sri Babula Charan Ram | Peon, Accounts Section | 9861790302 | |
| 13 | Sri Nrusinghanath Behera | Peon, Administrative Section | 9853347918 | |
Information Bulletin
Documents
Committes/Cells
Proceedings
Notice and Circular