About Us
Electronic Resources
Library Section
Web Opac
Manuscripts
Download
Library Events
Contact Us
About Us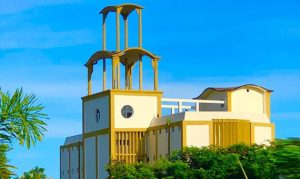 The central library of Utkal University, named after its first Vice Chancellor, Professor Pranakrushna Parija, is one of the finest libraries in the state of Odisha. Set up in 1946 in Cuttack, it was shifted to the campus of Utkal University in Bhubaneswar in1962. The building of the library, an impressive edifice, is spread over 28,000 square foot and comprises large reading rooms, periodical, reference, manuscript, documentation and text-book and administrative sections. The holdings of the library consist of more than two Lakhs of books and 5800 rare manuscripts. To serve the information needs of its large number of users in a globalised world the library, as part of INFLIBNET e-ShodhSindhu Consortium and OSHEC Consortium provides them access to wide variety of e-resources. The faculty, students, research scholars and employees of the University find Parija Library a vibrant and welcoming learning space.
History: Parija library was first located at Bhrdhaman Kothi, Cuttack in 1946. Then it was shifted to Utkal University Library Building in 1962. Parija Library in Utkal University was set up in 1946 at Vani Vihar in Bhubaneswar and was named so in the memory of the first Vice-Chancellor and a great scientist Late Dr. Pranakrushna Parija.
Location: Parija Library in Utkal University at Vani Vihar has its own building within the campus. The library is situated in the heart of the campus. It occupies 28.000 sq. ft. The reading room occupies 7500 sq. ft. for 200 users, Periodical Section comprises 1800 sq. ft. for 60 users, Reference section comprises 1500 sq. ft., Administrative room occupies 2800 sq. ft., and Manuscript Section occupies 2500 sq. ft.
Library Sections: The library has eight sections. Sections are i.-Acquisition section, ii.- Technical Section, iii.-Periodical Section, iv.-Circulation Section, v.-Reference Section, vi.-Documentation Section, Vii.-Administrative Section, Viii.-Text book Section, ix.- Manuscripts Section, each section is headed by three Asst. Librarian.
Working Hours: Parija Library in Utkal University open on all working days from 10 a.m. to 7 p.m. except on Saturdays, Sundays and national holidays. Books are issued on all working days from 10.30 a.m. to 5:00 p.m.
Library Committee: A library committee has been formed for the maintenance of the Parija Library in Utkal University. The committee frames the rules and regulations of the library after approval from University authorities.
Staffs of Parija Library: Parija Library has 46 sanctioned posts and Library Office has 19 sanctioned posts.
Electronic Resources
Library Section
Web Opac
Manuscripts
Download
Library Events
Contact Us