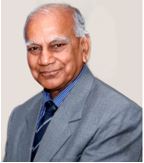 After Master's (gold medalist) as well as doctoral degrees from Banaras Hindu University, Prof. Naik served in different government colleges from 1962 for over a decade as Lecturer and Reader till he joined Utkal University in 1973 first as a reader and then a Professor in 1984 (retired in June 1998). He distinguished himself both as an exemplary teacher and a researcher. He was elected as the President of the Utkal University Teachers' Association. He pursued research on the cytophysiology and immunohistochemistry of the pituitary gland from fishes to mammals and localization of neuropeptides like enkephalins and endorphins in the brain of vertebrate animals. He visited several countries like the USA, UK and Japan; guided ten students to Ph D degrees and published more than 100 research papers.
He was invited to join the Dept. of Anatomy, Jikei University School of Medicine, Tokoyo, Japan, as a Visiting Professor in 1989 under the Uehara Memorial Foundation Fellowship Programme.
His tenure as the Vice-Chancellor of Sambalpur University had earned the reputation of being a doer where he contributed immensely for the all-round development of the University. He was an example of "practise-what-you-preach philosophy" through his simplicity and sincerity and justified his name as a real "polestar".
As a true son of the soil he returned to his native village Kuanrmal in Jharsuguda district in 1963
where he organized the local tribals of 15 villages through Maa Andhari Van Surakshya Samiti and converted the 1000 acre Andhari forest into a lush green forest identifiable via google satellite images. He was not only conferred with the Bharat Nirman Samman Award in 2011by the Press Information Bureau, Govt. of India; prestigious Prakruti Mitra Award in 2013 and Senior Scientist Award (Odisha Bigyan Academy) in 2017; but also made Maa Andhari VSS a "case study" at the Plus II (CHSE, Odisha) and university levels along with "Chipko movement". He was appointed as the Honorary Wildlife Warden for the Jharsuguda district in 2012. The Publication of 'Andhari Bhagabat' (2016) and 'Andhari Chintaru Dharitri Chinta' (2017) is a testimony of the dedication to Environmental conservation, one of the burning problems for the mankind at present. Doordarshan has produced and telecasted a documentary film "Annya Eka Dhruba Tara" depicting the life and works of Prof. Naik.