Eco-Club works as an outreach wing of Utkal University for environmental sensitization and awareness. It provides a platform to like-minded students from different disciplines who believe in the ethos of environmentalism and have pledged to be the front-runners for carrying out tasks for creating awareness of the environment.
Environmental Education, Awareness and Training play a vital role in encouraging and enhancing students participation in activities aimed at conservation, protection and management of the environment. It is essential for achieving sustainable development.
Eco Club is a voluntary group which promotes the participation of students in learning about and improving their environment. It upholds the values of sustainable Development Goals and aims at making the Utkal University campus environmentally sensitive attaches immense importance to everyday practice and small acts of self-discipline to protect our environment.
The Eco Club of Utkal University has set the following major objectives:
Organisation of lectures, seminars, workshops and training programme for students to enhance their understanding of the environment and enable them to be action-oriented. Our eco-volunteers have an eye for detail when it comes to campus culture. They try to instill a culture of environmentalism among other students on campus. They make students sensitive to environment-friendly action and try to sensitize them to abstain from single-use plastic, energy conservation and water conservation, and protection of trees and plantations along with the motto of having an aesthetically robust and environmentally sensitized campus. They take the lead in their own departments and hostels in such action to inculcate in their peer groups the ethos of environmentalism. The Eco-Club also aims at having a plantation drive along with sensitization programmes in terms of workshops and collaborations with organizations working along the same lines.
Eco Club can thus help to extend the boundaries and scope of the formal educational system, encouraging creativity, and empowering students with ecofriendly skills.
COORDINATORS
 Dr. Chinmay Pradhan, Associate Professor, Department of Botany,
Dr. Saroj Kumar Sahu, Assistant Professor, Department of Botany
Dr. Tanaya Mohanty, Department of Sociology. 
STUDENT MEMBERS (2017-2023)
Aloukika Panda (2017-19)
Gangotri Naik (2017-19)
Meenakshi Tudu (2017-19)
Prangyajit Mohanta (2017-19)
Sujit Sahoo (2017-19)
Diptimayee Mohanty (2017-19)
Aliza Priyadarshini (2017-19)
Sritam Behera (2017-19)
Aishwaria Lakra (2018-20)
Lipsa Prusty (2018-20)
Nilesh Mohanty (2018-20)
Pallavi Sahoo (2018-20)
Ankit Mohanty (2018-20)
Richa Mohapatra (2018-20)
Samikhya Bastia (2018-20)
Soumyajit Rout (2018-20)
Sipra Swati Swain (2018-20)
Binayak Mohapatra (2018-20)
Amlan Kar (2019-21)
Md Sarif (2019-21)
Sivangee Mallick (2019-21)
Subhra Biswal (2019-21)
Sujit Sarkar (2019-21)
Bikash Swain (2019-21)
Atasi Behera (2019-21)
Chandan Maharana (2019-21)
Mahalaxmi Panda (2019-21)
Biswajit Swain (2020-22)
Sunandita Senapati (2020-22)
Aliva Anwesha Samal (2020-22)
Supriya Patel (2020-22)
Ashwin Sahu (2020-22)
Rasmita Sethi (2020-22)
Saurabh Kumar Bhoi (2020-22)
Karishma Sethi (2020-22)
Abhilipsa Kanungo (2020-22)
Subhankar Tarai (2020-22)
Diptirani Sahoo (2021-23)
Pritam Ray (2021-23)
Sabita Rani Marndi (2021-23)
Bansidhar Gupta (2021-23)
Swarnalata Tripathy (2021-23)
Chandradaya Swain (2021-23)
Banshidahara Behera (2021-23)
Bandita Behera (2021-23)
Harapriya Dash (2021-23)
Pragyan Nayak (2022-24)
Priyaprabhat Kerketta (2022-24)
Sulagna Mohanty (2022-24)
Essa Khuntia (2022-24)
Diptirekha Mohanty (2022-24)
National Workshop and Training Programme | 24-25th JANUARY 2023
The workshop cum training programme was based on the seaweed cultivation and the utilization by the local community having a special focus on the empowerment of women. It was conducted in Langaleswar village (near Chilika) in Odisha. The programme was organized by the Marine Biotechnology Department of Delhi University and sponsored by the Department of Biotechnology, GoI with the participation of Utkal University as a member of the organizing committee. Working towards mostly 5 UNSDGs (Goals: 1, 8, 9, 13, 14), the programme will cover the local women in terms of their training to have knowledge on the income generation activities based on the seaweeds. By the cultivation of seaweed, the locals can be part of the seaweed market worldwide in the Medicines industries for Diabetic patients, cosmetics, chocolates and many more. The programme had a special focus on the women's empowerment of the local communities.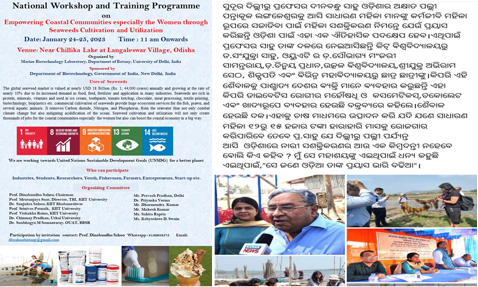 ECO-CLUB MEETING IN UTKAL UNIVERSITY | 4th MARCH 2023
There was a meeting of the members of the Eco-club in the Department of Botany in Utkal University. It had a thorough discussion on the agenda the club is going to follow for the upcoming session.  The meeting was attended by Dr. Chinmay Pradhan, Dr. Saroj Kuar Sahoo, Dr. Tanaya Mohanty and Dr Bandana Kullu along with students from different departments.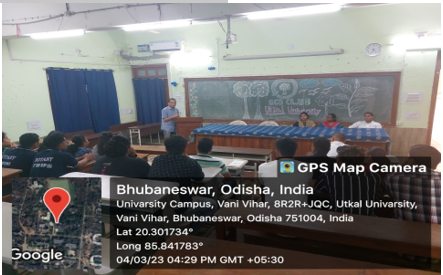 SEMINAR CONDUCTED BY OES | 5TH MARCH 2023
Dr. Chinmay Pradhan was invited by the Orissa Environmental Society and delivered a lecture that was attended by students in large numbers, where he sensitized us on the sustainable alternative to the use of plastic in contemporary modern society.
The seminar is based on Bio-plastic which is made up of Green Composites (derived from plants) as the solution to the plastic menace. The event was organized by the OES and the Chief Speaker was Dr. Chinmay Pradhan (a member of Eco-club). The seminar has focused on the polluting effects of synthetic plastic and promoted the use of Bio-plastic to reduce pollution and check the increasing temperature worldwide.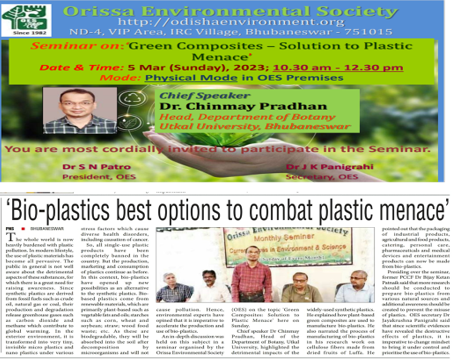 Critical discussion on the poor air quality of Bhubaneswar by Dr. Saroj Kumar Sahu
Dr. Saroj Kumar Sahu's critical assessment of Bhubaneswar's poor air quality highlights the city's alarming levels of pollution. He points to a complex mix of factors, including vehicular emissions, industrial activity, and construction dust, as major contributors to the problem. Dr. Sahu underscores the urgent need for robust air quality monitoring, stricter emissions regulations, and increased green spaces to combat this health hazard. His research underscores the severe health implications, urging policymakers to prioritize air quality improvement as a public health imperative.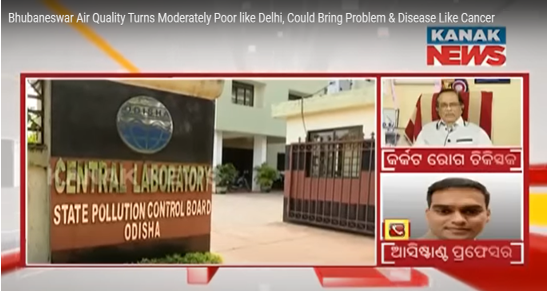 Plantation on World Environment Day 2018
Dr. Chinmay Pradhan and fellow delegates, in collaboration with the Eco Club, organized a notable plantation drive at Utkal University on World Environment Day in 2018. This initiative showcased their commitment to environmental conservation. They planted a diverse range of trees, symbolizing their dedication to combating deforestation and promoting green initiatives on the campus. This event served as an inspiring example of proactive environmental stewardship within the university community, fostering a sense of responsibility towards our planet.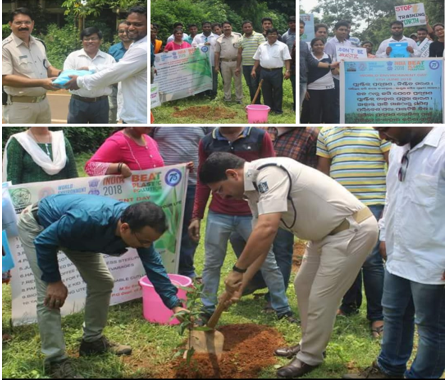 Public awareness rally to Beat Plastic pollution on World Environment Day 2018
The Eco Club organized a spirited public awareness rally on World Environment Day 2018, dedicated to combating plastic pollution. Participants, armed with placards and enthusiasm, marched through the streets to highlight the urgent need to address this global crisis. They emphasized the importance of reducing single-use plastics and promoting eco-friendly alternatives, aiming to inspire behavioral change. This event served as a catalyst for community engagement and activism, underscoring the pivotal role of grassroots efforts in the fight against plastic pollution.
Public awareness bicycle rally on the World Environment Day- 2018
On World Environment Day in 2018, the Eco Club coordinated a notable public awareness bicycle rally to promote eco-friendly transportation and environmental consciousness. Participants pedaled through the city, carrying banners and messages advocating for sustainable practices. This event aimed to reduce carbon emissions, raise awareness about pressing environmental issues, and encourage the use of bicycles as a green commuting option. The rally showcased the Eco Club's dedication to fostering a greener, healthier planet through grassroots initiatives and community engagement.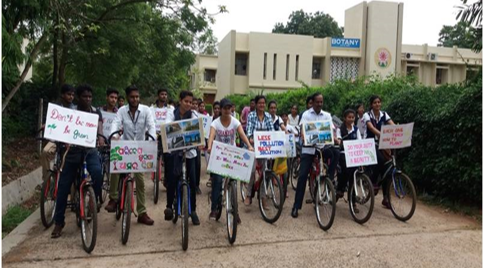 Drawing exhibition on the Annual Day of Department of Botany 2019
The Eco Club organized an inspiring drawing exhibition as part of the Annual Day celebrations of the Department of Botany in 2019. The exhibition creatively portrayed the urgency of safeguarding our planet through stunning artworks that depicted ecosystems, endangered species, and sustainable practices. Through a diverse range of artworks, attendees gained a deeper appreciation for the natural world and the importance of plant life. The event successfully blended art and science, fostering a stronger connection between the Department of Botany and environmental conservation, ultimately highlighting the intersection of these two crucial disciplines.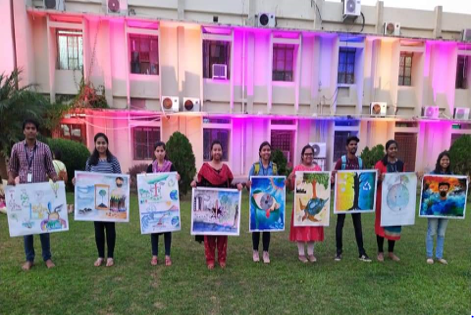 Public awareness rally on the World Environment Day 2019
On World Environment Day 2019, the Eco Club organized a compelling public awareness rally to underscore the importance of environmental conservation. Participants, carrying placards and banners, marched through the community, spreading messages of sustainability and ecological responsibility. The rally aimed to raise public awareness about critical environmental issues such as climate change, deforestation, and pollution, emphasizing the need for collective action. It served as a powerful reminder that small individual actions can collectively make a significant impact in protecting our planet for future generations.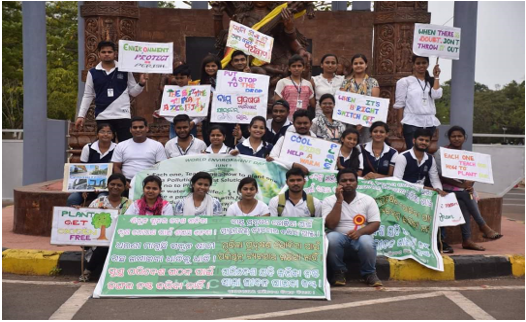 Awareness and Field visit to Chandaka Sanctuary
The Eco Club's student members embarked on an enlightening awareness and field visit to Chandaka Sanctuary, fostering a deeper understanding of local biodiversity and conservation efforts. This educational excursion allowed students to witness firsthand the rich flora and fauna of the sanctuary and the importance of preserving natural habitats. Through this experience, participants gained valuable insights into wildlife protection and environmental stewardship, enhancing their commitment to sustainable practices. Such initiatives play a vital role in nurturing the next generation of environmental advocates and promoting responsible engagement with our natural world.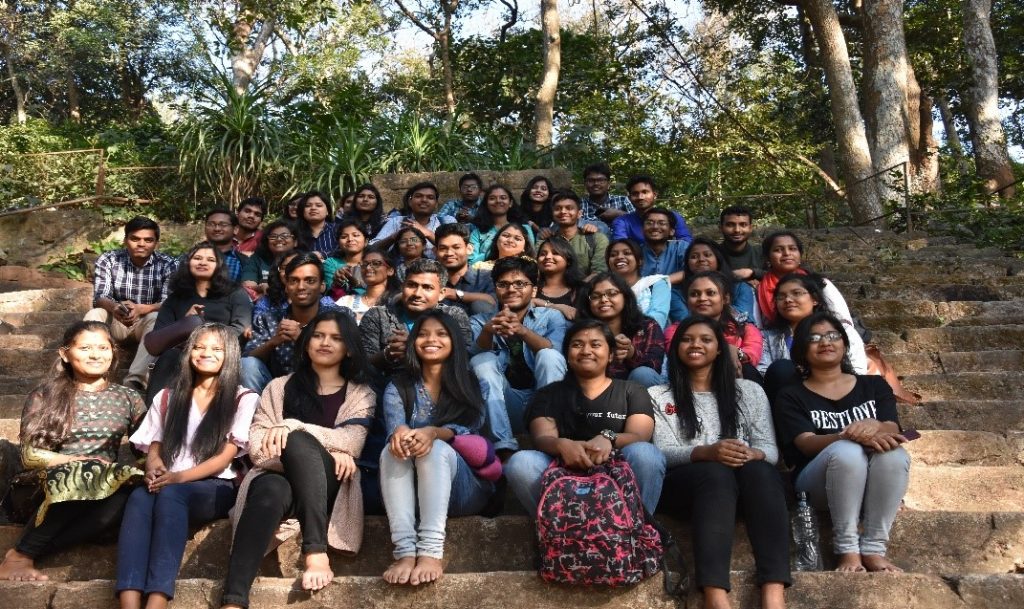 Meeting of the Eco Club members with University Alumni, Utkal University-2020
The Meeting of the Eco Club at Utkal University in 2020 was a significant gathering that brought together both current and alumni members. This event served as a platform to discuss past achievements, ongoing projects, and future environmental initiatives. The synergy between current and former members allowed for a rich exchange of ideas and experiences, contributing to the club's growth and continuity. It demonstrated the enduring commitment of individuals to environmental causes and the importance of a collaborative approach in addressing pressing ecological challenges.
Public awareness marathon for Environmental pollution mitigation- 2022
In 2022, the Eco Club organized a notable public awareness marathon dedicated to mitigating environmental pollution. Participants from diverse backgrounds came together to run for a cleaner planet, promoting sustainable practices and pollution reduction. This event aimed to educate and engage the community on the pressing issue of environmental pollution while advocating for responsible behavior and policy changes. The marathon showcased the Eco Club's commitment to fostering a greener future and the power of collective action in addressing environmental challenges.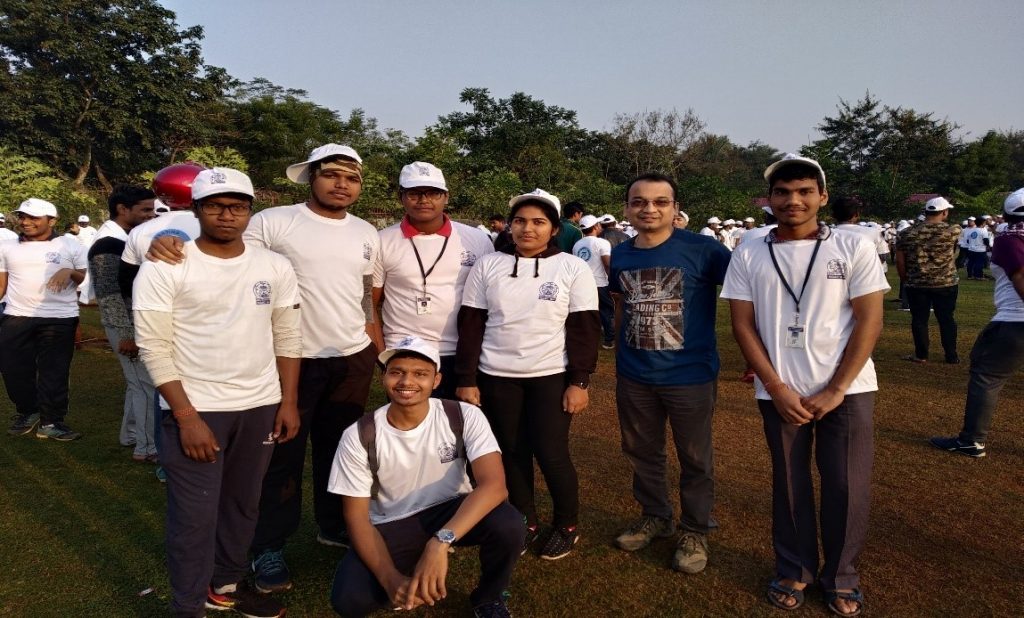 Interaction on the air pollution mitigation strategies with foreign delegates-2022
The interaction between Eco Club members and foreign delegates on air pollution mitigation strategies is a commendable initiative. Such dialogues facilitate the exchange of best practices, innovative solutions, and policy insights from different parts of the world. The discussions likely revolved around implementing cleaner technologies, strengthening emissions regulations, and promoting public awareness campaigns. These interactions are vital for creating a global network of environmental advocates and accelerating efforts to combat air pollution, a critical issue that transcends borders and affects us all.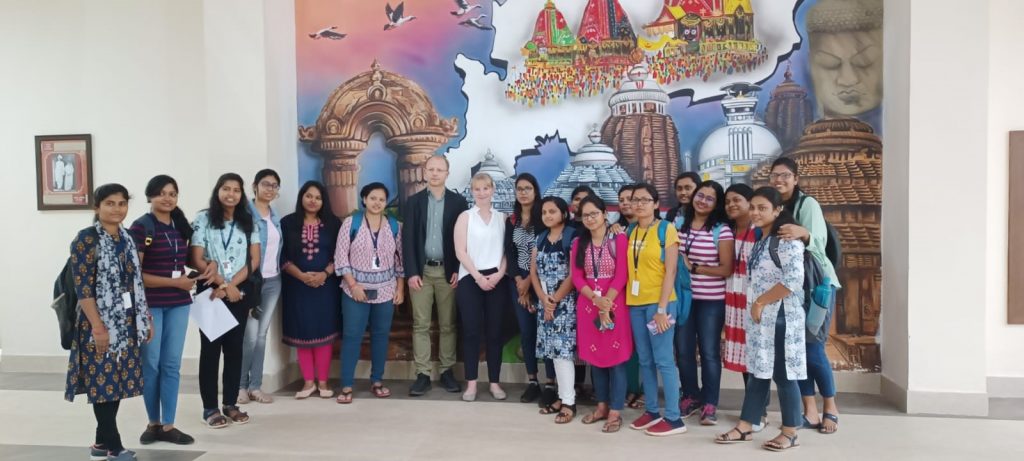 Organization of QUIZ competition by Eco-Club members 2020
With cooperation with Eco-Club members, department of Botany organized received quiz competition where students from 29 department in Utkal University participate and various questions regarding environmental issue is discussed.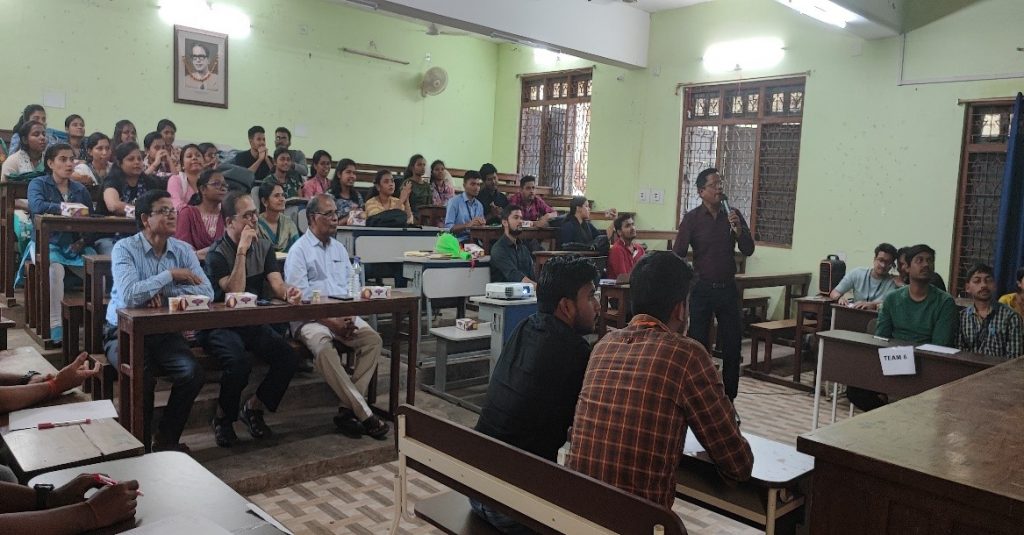 Media coverage of the campaign Beat Plastic Pollution 2023
The "Beat Plastic Pollution" campaign in cooperation with Eco-Club members received extensive coverage in various print media outlets, amplifying its message and impact. Newspapers, magazines, and newsletters featured articles, interviews, and editorials about the campaign's goals and achievements. These publications helped raise awareness about the environmental hazards of plastic pollution and inspired readers to take action by reducing their plastic consumption and promoting sustainable alternatives. The print media's involvement in covering the campaign contributed significantly to its success in mobilizing individuals and communities to combat plastic waste.