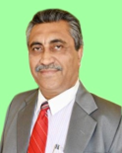 Born on the 13th April 1957 in the Puri town. After passing H.S.C. Examination in first division from Biswambhar Bidya Pitha, Puri he was admitted in S.C.S. College, Puri wherefrom he graduated in 1976. He secured a first class Honours (Botany) with distinction standing first in the order of merit for which he was awarded Shyamananda PatnaikMemorial Gold Medal. He studied for his M. Sc. With a special paper in cytogenetics in the Department of Botany, Utkal University, Bhubaneswar where he bagged the best seminar speaker award consecutively for two academic sessions (1976-77, 1977-78). Dr. Chand became the recipient of the University Gold Medal for standing 1st in 1st class in the M.Sc. examinations of Botany in 1978.
Dr. Chand joined the Post-Graduate Depth of Botany, Utkal University as a Lecturer on the 24th October, 1979. He superannuated on 30th April 2017 from Department and subsequently joint as Vice Chancellor North Orissa University, Baripada from 2018 and still continuing.
He was awarded a Commonwealth Academic Staff Scholarship of British Council in 1984 enabling him to undertake a Ph.D. programme under the supervision of Prof. E.C. Cocking, Dr. M.R. Davey and Dr. J.B. Power of the Plant Genetic Manipulation Group of the University of Nottingham, U.K. During his doctoral research, Dr. Chand had the opportunity to acquire expertise in multiple facets of plant genetic engineering such as isolation, culture and fusion of several protoplast systems, flow cytemery and cell sorting, genetic transformation of plants using engineered Ri plasmid vectors and direct gene (naked recombinant DNA) delivery to protoplasts using PEG or electroporation. While in England, he was selected to act as an Instructor in a Rockefeller Foundation Training Course on 'Protoplast Culture and Transformation in Rice' organised in the year 1987. He had also the privilege of working with Dr. I. Watanabe of International Rice Research Institute, The Philipines by virtue of a short-term IRRI Research Fellowship. Dr. Chand returned to India in December, 1988 and resumed his teaching and research assignments at the Dept. of Botany, Utkal University. In the meantime, he had published more than 90 research papers. and presented many research papers in several national and international conferences held in India and abroad including the Netherlands, U.S.A. and Bangladesh. Dr. Chand was selected as a Guest Faculty in the Training Course on 'Protoplast Culture, Somatic Hybridization, Encapsulation and genetic Transformation' at the CIMAP, Lucknow and also as a Resource Person in a National Workshop on 'Advances in 'Plant Molecular Genetics and Tissue Culture' at CPMB, Hyderabad in the year 1990 and 1992 respectively both being sponsored by the Department of Biotechnology, Govt. of India.
His research interests are micropropagation of different plant species of economic importance, production and utilization of synthetic seeds (iii) study of biochemical changes during de-differentiation and organogenesis in Dalbergia and Morus , protoplast culture and fusion of Dalbergia sp and Morus sp. He guided One D.Sc., 19 Ph. D. and 28 M. Phil students. He co-edited three books and wrote seven book chapters published by National and International publishers.