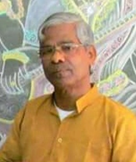 Born on 2nd May, 1950 in a small village, Gopinathpur in the district of Kendrapara, had his early education in his village school. He passed the High school Certificate examination of 1966 in First Division from Sri Lakshmi Narayan Bidyapitha Ashram, Balikuda of district Kendrapara and on the basis of his result he was awarded the National Merit Scholarship for four years to continue his higher studies. He graduated from Ravenshaw College, Cuttack in 1970 with First Class Honours in Botany and Distinction. On the basis of his B.Sc.(Hons) Examination result, he was again awarded the National Merit Scholarship for 2 years to continue his Post Graduate studies. He passed his M.Sc. Examination of 1972 in Botany from the Post Graduate Department of Botany, Utkal University and then joined the same Department for his Ph.D. work after availing UGC Junior Research Fellowship, and then CSIR Senior Research Fellowship. He worked under the guidance of Dr. Dinabandhu Mishra, the then Reader of the Department, for his Ph.D. thesis, and the degree was awarded in 1978.
Dr. Kar joined Ravenshaw College, Cuttack as Lecturer in Botany in 1975 after being selected by the Orissa Public Service Commission. He continued in this post till 1980 and then he was selected for the post of Lecturer in Botany of Utkal University and joined this Department in 1980. He was selected for the post of Reader in Botany in 1985 in which post he is continuing till date. Dr. Kar was selected for the CSIR Research Associate (1979-80), and UGC visiting Associate (1992-94) for higher research work. For his contributions to science, he was awarded with the prestigious Alexander Von Humboldt Foundation Post-Doctoral Research Fellowship of the Government of Germany and worked in Frankfurt University from 1981 to 1983. He was re-invited to avail this fellowship again in 1990. He superannuated on 31st May 2010 from Utkal University. Then he worked as UGC visiting Professor from 2011-2012 and UGC Emeritus Fellow from 2013-2015 in Department of Botany, Utkal University.
Dr. Kar's research work is in the field of oxidative metabolism in leaf development and senescence. Along with his Ph.D. supervisor, he was one of her very few scientists to initiate work on the involvement of active oxygen species in the senescence process of leaves. Dr. Kar has also conducted research work in the field of nitrogen metabolism in plants. Presently he is working on the biochemical basis of callus growth and differentiation with special reference to metabolism. Dr. Kar has published more than 45 research papers. His research works are being quoted and followed by scientist all over the world. He has also published several scientific articles in Popular science magazines. Fifteen student has been awarded Ph. D. degree under his guidance. He is member of number of National and International Scientific societies has also attended a number of national and international conferences.