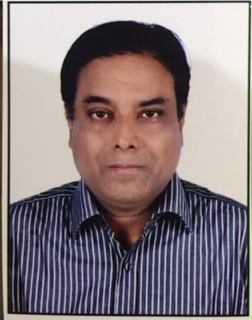 M.A.
Department: P.G. Department of PMIR
Subject : Personnel Management & Labour Welfare
B.Sc. (Hons.) & Distinction
Honours: Chemistry
Other Subjects: Physics, Maths
Ravenshaw College, Cuttack
I.Sc.
B.J.B. College, Bhubaneswar
Subjects: Physics, Chemistry & Maths
Centre for Agri-Management, Utkal University, March 2017–present as Course Head
Reliance Retail Ltd, May 2016-Sep.2016,Head HR – Corporate Projects
Reliance Retail Ltd, June 2008- Apr.2016, AVP & Zonal HR Head
Vijaya Bank,May 2005 -May 2008,Chief Manager
Vijaya Bank,Aug. 1992 – May 2005,Manager / Asst. Manager
Head HR (Corporate Projects) / Zonal HR Head – Reliance Retail Ltd – June 2008 to Sept. 2016
Key Result Areas:
Formulated, implemented and revised the strategic HR plans & policies aligned with organizational goals and industrial norms; communicated the policies across all levels; guided the team completion and implementation of HR projects in different formats of retail business
Developed and implemented organization structure to meet current and future business needs
Performed manpower planning and budgeting, thereby guiding the recruitment function in the organization as per the planned manpower budget; sourced candidates from multiple channels to achieve recruitment targets. Identified and tied up with skill development agencies / institutes to hire pre-skilled candidates for the business and drive large scale talent acquisition
Implemented succession planning and career development plans that identify top performers; created development plans and opportunities to strengthen employee skills through assessment and development centers, higher education programs while also improving the performance management process and goals for those not performing. Effectuated the tools to control attrition in highly volatile retail environment
Analyzed compensation policies, government regulations and prevailing wage rates for developing competitive compensation plans and maintaining equitable compensation system in the company; educated employees about remuneration policies and assessed the recommendations for salary corrections. Developed reward & recognition programs that most cost effectively meet the motivational and retention needs of employees; aligned the value of the reward programs with individual performance and business performance
Managed crises and settlement of IR issues at various project locations; worked on the settlement of disciplinary issues. Facilitated cordial industrial relations in the organization by acting as a mediator in initiating settlement proceedings, managing enquiries and aligning the wages structure as per market norms
Developed systems & measurable processes, established the KPIs /KRAs / PMS / Goal Sheets for the annual appraisal process and streamlined Performance Management System. Ensured that the pay hikes are in-line with company standards and performance clearly aligned to individual pay awards
Identified training needs across levels through mapping of skills required for particular positions, consolidated, prioritized, scheduled the trainings and measured the effectiveness of these programs. Conducted and arranged the training programs for employee development on attributes directly impacting development of the organization
Employee Relations/Grievance Management:
Spearheaded surveys related to Compensation & Benefit, Employees Attitude and Climate/Environment in the organization for assessing the employee motivation, expectation and addressing the grievances to plan remediation. Monitored employee engagements & OD programs and ensured prompt resolution of employee grievances & maintained cordial employee relations
Chief Manager (Corporate HR) / Manager (HR) – Vijaya Bank – August 1992 to May 2008
Key Result Areas:
Worked on manpower planning and developed growth & succession plans for the employees
Framed HR policies for various cadre of employees and implemented employee welfare measures; executed internal elevation process and mobilization of employees at PAN India basis
Collaborated with employees' unions / officers' associations, top management committees and participated in all policy decisions at corporate level
Managed the disciplinary proceedings, conducted departmental enquiries, issued charge sheets, completed the departmental proceedings & passed final orders
Liaised with various Govt. Agencies & Central Vigilance Commission; provided required inputs from HR to Bank's Board of Directors and coordinated for AGM with the shareholders
MBA (Agribusiness)                                                                                                                               March 2017 till date
Centre for Agri-Management, Department Of Business Administraion, Utkal University.
Duties & Responsibilities:
Head – Academic Curriculum for P.G. Dept. of Agri-Business Management (MBA-Agri-Business)
Head of Administrative and Management activities of Centre for Agri-Management
Coordinator for the Industry-Academia Interface, Corporate Relations, Conferences and National / International Seminars & liaison activities for the Centre.
Take classes on HRM, Organization Behavior and CSR for the students of MBA (Agribusiness)
Conduct Sessions on HRM & new age HR practices in Utkal University & various other
Talk Session on Design & Development of a Resilient Talent Management System – BIITM, Bhubaneswar 2021
Session on Best HR Practices in New Age Industries – Srusty Academy, Bhubaneswar, 2021
Session on Impeding Challenges for HR due to COVID – 19 – HR India Forum, 2020
Motivational session during Induction Programme of P.G. Dept. of PMIR, Utkal University, 2020
Session on Retail Management at IMIS, Bhubaneswar, 2015
Session on HR Management in Retail Industry at Bharatiya Vidya Bhawan, Bhubaneswar, 2014
Session on Evolution of Retail Industry in India at Bharatiya Vidya Bhawan, Bhubaneswar, 2012
Talk Session on Retail Management & HR Best Practices at SRI SRI University, 2012
Session on Retail Industries in India & Challenges for HR at KIIT School of Management, Bhubaneswar, 2012
Invited Speaker on the topic 'Succession Plan & Employee Retention – A Key to Success' at Symbiosis Institute of Operations Management, Pune, 2013
Special address at National HRD Conference on the topic 'Retail Industry in India & its Challenges', 2012
Distinguished speaker in the conference of National Institute of Personnel Management (NIPM), 2011
Honoured with Rajiv Gandhi Sadbhavana Award by Governor of Odisha in August 2010 for outstanding contribution in generating job opportunities for economically weaker section of the society.
Conferred with the youngest Chief Manager award in May 2005 by the top management of Vijaya Bank.
One week training program on Latest Tools for Effective HR Management at NIBM, Pune
One week training on HR Leadership Program conducted by National Productivity Council
Two specialized workshops at Bankers' Training College, Mumbai (RBI) on Strategic HR Management & Effective HR Practices in Banks
Various national seminars & HR meets organized by NHRD, NIPM, Times Group, HT Conclave and so on
National Seminars / Workshops & leadership meets organized by  Centre for Agri-Management, Reliance Retail Ltd. & Vijaya Bank
Speaker in various workshops & national seminars organized by NHRD, NIPM, ISTD, CII, Times Ascent Group, National Productivity Council, BIMTECH, SIOM, Utkal University & a series of other institutes & universities
Guest Faculty in institutes & universities in Bhubaneswar & Bangalore on HR Management & CSR Policies
Performed socio-cultural activities and worked as Vice President / General Secretary of Bangalore Odia Association for 6 years