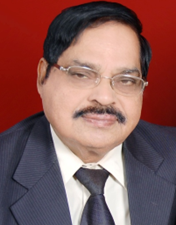 Born on 2nd November, 1947 in the village Barambagarh of princely state of Baramba in Cuttack district. He had his early education in M.S. High School, Baramba and subsequently graduated from G.M. College, Sambalpur in 1969. After completing his M.Sc. in 1971 from this department as one of the first batch of students, Dr. Rath joined as a Research scholar in CSIR scheme (1971-74) under Prof. S. N. Patnaik. Dr. Rath joined Government of Orissa in 1974 after beings elected by Orissa Public Service Commission. He served three colleges of the State like Ravenshaw College, Cuttack; Khallikote College, Berhampur and B.J.B. College, Bhubaneswar for twelve years as lecturer in Botany after which he joined this department as Reader in Botany in January 1987. He superannuated on 30th November 2007 from Department and subsequently joint as Vice Chancellor North Orissa University, Baripada from 2008 to 2011 and became the Pro-vice Chancellor of Central University of Odisha, Koraput during 2011-2012.
Dr. Rath was a National Associate of UGC for 3 years (1984-1987) and visited several laboratories of the country as a visiting scientist. He visited USSR (Moscow State University, Moscow and Komarov Botanical Institute Leningrad) under Indo-Soviet Intigrated long Term Programme as a fellow delegate during 1990.
Being a member of several national and International societies, Dr. Rath is also engaged in the organisational matter of the societies for years. He organised several conferences of Orissa Botanical Society both as it's secretary and local secretary. He also acted as the Director of the summer School of NTS awardees in 1993 sponsored by NCERT. He has published more than 100 research papers 10 books. Moreover he acted as the resource person in various orientation and refresher courses organised by Utkal University and other Universities. He is co-opted as a resource person in Biology by Board of Secondary Education, Orissa since 1990. He guided more than 30 Ph. D and 26 M. Phil students. A prolific writer in Oriya literature, Dr. Rath has got excellence in stage acting and directing plays.