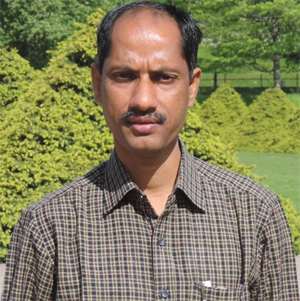 Utkal University
June 1998
 
Ph.D.
Department: Zoology
Thesis Title: Ecology of Gahirmatha and olive ridley turtles (Lepidochelys       olivacea) with special reference to eggshell calcium utilization during embryonic development.
Areas: Developmental Biology
Advisor: Prof. (Mrs.) Priyambada Mohanty-Hejmadi
Utkal University
July, 1991 – August, 1992
M. Phil.
Department: Zoology
Thesis Title: Studies on growth in natural population of Bufo melanostictus Schneider (Anura: Bufonidae)
Areas: Ecology
Advisor: Prof. Sushil Kumar Dutta
Utkal University
July, 1987 – May, 1989
M.Sc.
Department: Zoology
Thesis Title: Chromosome complement of an aquatic spider
Areas: Cytogenetics
Advisor: Prof. B. B. Parida
 
 
Utkal University
July, 1985 – May, 1987
Bachelor of Science
Hons: Zoology
Utkal University
October 2020 – present
October, 2015 –Sept. 2020
Associate Professor
Reader
Maharaja Srirama Chandra Bhanja Deo University
April 2008 – September 2015
Assistant Professor
Colleges under Director, Higher Education, Govt. of Odisha
August, 1997 – March, 2008
Lecturer
TEACHING EXPERIENCE
Course Name- M Sc
Paper Name: ZOO 101, ZOO – 104, ZOO – 201, ZOO – 302, ZOO – 304
Department  and University Name – Zoology, Utkal University
2015-Till date
Course Name-M Phil
Paper Name – ZOO 501, ZOO – 502, ZOO – 601, ZOO – 602
Department and University Name – Zoology, Utkal University
2015-Till date
Course Name- P h D Course work
Paper Name – ZOO – 701, ZOO – 702
Department and University Name – Zoology, Utkal University
2015-Till date
Invited lectures:
Around 20
PhD thesis
Book Articles (Authored/Edited)
Sl. No.
Authors
Title of the Book
Title of the chapter
Publisher
ISBN
Year
1
Jasmin Rout and Gunanidhi Sahoo
Assessment of river health through water and biological characteristics
River Health and Ecology in South Asia
Springer-Nature
978—3-030-83553-8
2021
DOI: 10.1007/ 978—3-030-83553-8
2
L. Padhi, S.K. Panda and Gunanidhi Sahoo
Salmonella associated with snakes
Ethno-Pharmacology, Biodiversity and Conservation
Kunal Books, New Delhi
978-81-932499-5-6 Pages: 286-297
2017
3
G. Prudhviraj, K. Vasudevan, Gunanidhi Sahoo and S.K. Dutta
Diversity and Ecology of Amphibians of India
Larval Taxonomy of Indian Anurans
ENVIS, WII, India
Pages: 117-130
2017
4
S. Mahapatra, J. Rout and Gunanidhi Sahoo
Biodiversity Conservation, Research & Management
Ecology of anuran tadpoles
Himalaya publishing House, New Delhi
978-93-5202-849-8
Pages:182-194
2015
5
L. Padhi , Gunanidhi Sahoo, S.K. Dutta and S. K. Panda
Recent Trends in Microbial Diversity and Bio-       prospecting
Oral microflora of venomous snakes
Westville Publ. New Delhi
Pages: 15-37
2014
ArXiv Preprints
Refereed Conference Publications
| | | | | |
| --- | --- | --- | --- | --- |
| Sl. No. | Authors | Title of the paper | Name of the Conference with date | Place/Country |
| 1 | P. Mohanty-Hejmadi and Gunanidhi Sahoo | Biology of olive ridleys of Gahirmatha | Sea Turtle Biology & Conservation | Miami, USA |
| 2 | P. K. Panigrahy, Gunanidhi Sahoo M. R. Prasad, J. Das, B. B. Nayak, B. N. Sahoo, B. C. Acharya, S. N. Das, S. C. Basa, S. B. Rao and R. K. Sahoo | Heavy metals content in sediments of estuarine and coastal regions of Orissa | Harbour and Ocean Engineering | Thiruvanantapuram, India |
| 3 | P. K. Panigrahy, J. Das, M. R. Prasad, Gunanidhi Sahoo, R. K. Sahoo, B. N. Sahoo, and S. B. Rao | Nutrient characteristics of coastal waters of Orissa | Advances in Environmental Sciences | Chennai, India |
Book Articles (Authored/Edited)
Sl. No.
Authors
Title of the Book
Title of the chapter
Publisher
ISBN
Year
1
Jasmin Rout and Gunanidhi Sahoo
Assessment of river health through water and biological characteristics
River Health and Ecology in South Asia
Springer-Nature
978—3-030-83553-8
2021

DOI: 10.1007/ 978—3-030-83553-8

2
L. Padhi, S.K. Panda and Gunanidhi Sahoo
Salmonella associated with snakes
Ethno-Pharmacology, Biodiversity and Conservation
Kunal Books, New Delhi
978-81-932499-5-6 Pages: 286-297
2017
3
G. Prudhviraj, K. Vasudevan, Gunanidhi Sahoo and S.K. Dutta
Diversity and Ecology of Amphibians of India

Larval Taxonomy of Indian Anurans
ENVIS, WII, India
Pages: 117-130
2017
4
S. Mahapatra, J. Rout and Gunanidhi Sahoo
Biodiversity Conservation, Research & Management
Ecology of anuran tadpoles
Himalaya publishing House, New Delhi
978-93-5202-849-8

Pages:182-194

2015
5
L. Padhi , Gunanidhi Sahoo, S.K. Dutta and S. K. Panda
Recent Trends in Microbial Diversity and Bio-       prospecting
Oral microflora of venomous snakes

Westville Publ. New Delhi
Pages: 15-37
2014
Journal Articles (Selected)
Sl. No
Authors
Title of the paper
Journal
Publisher
ISBN
Year with Page No
IF
1.     
Rout J., Panda SK., and Sahoo G.
Dark or light? Preference of anuran tadpoles to background illumination in response to food and predators
Journal of Bioscience
Springer – IAS
0973-7138
2023, 48:23 DOI: 10:1007/ S12038-023-00347-1
2.9
2.     
Nayak S., Sahoo G., Das II., Mohanty AK., Kumar R., Sahoo L., and Sundaray JK.
Poly- and per fluoroalkyl substances (PFAS): Do they matter to aquatic ecosystems?
Toxics
MDPI
2305-6304
2023, 11.543

DOI: 10:3390/ toxics 11060543

4.6
3.     
Raj P., Vasudevan K., Agarwal RK., Dutta SK., Sahoo G., Mahapatra S., Sharma R., Janani J., Kar NB., & Dubois A.
Larval morphology of selected anuran species from India
Alytes
Int. Society for the Study &Conservation of Amphibians
0753-4973
2023, 39-40, 1-140
–
4.     
Panda SK., Daemon M., Sahoo G., and Luyten W.
Essential oils as novel anthelmintic drug candidates
Molecules
MDPI

 

1420-3049
2022, 27,8327 doi.org: 10:3390/molecules 27238327
4.927
5.     
Rout J., Mahapatra S., and Sahoo G.,
Oral and buccopharyngeal morphology of the tadpoles of Polypedates maculatus with notes on their diet pattern
Current Herpetology
The Herpetological Society of Japan
1881-1019
2022, 41(2):180-195 doi:10.5358/hsj.41.180
0.84
6.
S. K. Das, B. Das, A. K. Jena, C. Pradhan, Gunanidhi Sahoo & J. Dandapat
Therapeutic potential and ethnopharmacology of dominant mangroves of Bhitarakanika National Park, Odisha, India
Chemistry and Biodiversity
Wiley
1612-1880
2022, 19, e202100857

doi.org/10.1002/cbdv.202100857

2.408
7.
S. K. Panda, Gunanidhi Sahoo, S. S. Swain and Walter Luyten
Anticancer Activities of Mushrooms: A Neglected Source for Drug Discovery
Pharmaceuticals
MDPI
1424-8247
2022, 15, 176

doi:10.3390/ph15020176

5.68
8.
S. S. Swain, Gunanidhi Sahoo, P. K. Mahapatra and S. K. Panda
Disease burden and current therapeutical status of leprosy with special emphasis on phytochemicals
Current Topics in Medicinal Chemistry
Bentham Science
1568- 0266
2021

doi: 10.2174/ 1568026621666210909162435, PMID; 34503409

3.295
9.
Alaka Sahoo, S. S. Swain, A. Behera, Gunanidhi Sahoo, P. K. Mahapatra and S. K. Panda
Antimicrobial peptides derived from insects offer a novel therapeutic option to combat biofilm: A Systematic Review
Frontiers in Microbiology

Frontiers. org
1664- 302X
2021

doi: 10.3389. fmicb.021.661195

5.64
10.
P. Gowri Shankar , P. Swamy, R. C. Williams,  S.R. Ganesh, Matt Moss, J. Hoglund, I. Das, Gunanidhi Sahoo, S.P. Vijayakumar , K. Shanker, W. Wüster, S. K. Dutta
King or royal family? Testing for species boundaries in the King Cobra, Ophiophagus hannah (Cantor, 1836), using morphology and multilocus DNA analyses
Molecular Phylogenetics and Evolution
Elsevier
1055- 7903
2021,

165 (2021)107 300 doi: https:// doi.org/ 10.1016/ j. ympev.2021. 107300

4.286
11.
L. Padhi, S. K. Panda, P. P. Mohapatra and Gunanidhi Sahoo
Antibiotic susceptibility of cultivable aerobic microbiota from the oral cavity of Echis carinatus from Odisha (India)
Microbial Pathogenesis
Elsevier
0882-4010
2020
3.738
12.
S. K. Panda, L. Padhi and Gunanidhi Sahoo
Evaluation of cultivable aerobic bacterial flora from Russell's viper (Daboia russelii) oral cavity
Microbial Pathogenesis
Elsevier
0882-4010
2019
3.738
13.
J. Rout. S. Mohapatra, S.  Asrafuzzaman, and Gunanidhi Sahoo
Oviposition site selection by the Asian common toad Duttaphrynus melanostictus (Schneider, 1799) in an Indian biosphere reserve
Herpetozoa
Austrian Herpetological Society
1013-44
2019

31(3/4)): 157-171

1.125
14.
S. K. Panda, L. Padhi and Gunanidhi Sahoo
Oral bacterial flora of Indian Cobra (Naja naja) and their antibiotic susceptibilities. Heliyon
Heliyon
Elsevier
2405-8440
2018
2.85
15.
S. Mahapatra,  S.K. Dutta and  Gunanidhi Sahoo
Opportunistic predatory behavior in Duttaphrynus melanostictus (Schneider, 1799) tadpoles
Current Science
Current Science Association, India
0011-389
2017

doi: 10.18520 /cs /v112 /i08 /1760-1764

1.102
16.
J. Jee, B.K. Mohapatra, S.K. Dutta and Gunanidhi   Sahoo
Sources of calcium for the agamid lizard Psammophilus blanfordanus during embryonic development. Acta Herpetologica,
Acta Herpetologica
Firenze University Press
1827-9635

2016

11(2):3-10

doi: 10.13128 /Acta_ Herp etol-15109

0.654
17.
S. K. Panda, A.K.  Bastia and Gunanidhi Sahoo
Process characteristics and nutritional evaluation of handia – A cereal based ethnic fermented food from Odisha
I Indian  J. Traditional Knowledge
CSIR- NISCAIR
0972-59
2014

13(1):149-156.

0.757
18.
Gunanidhi Sahoo, B.K. Mohapatra, and S.K. Dutta. 2010
Chemical composition and ultrastructure of shells of unfertilized eggs ofOlive Ridley turtles, Lepidochelys olivacea.
Current Herpetology
Herpetological Society of Japan
1345-583
2010

29(1): 37-43

0.684
19.
Gunanidhi Sahoo, B.K. Mohapatra, and S.K. Dutta
Structure and chemical composition of shells of abnormal eggs of olive ridley turtle, Lepidochelys olivacea (Eschscholtz, 1829) (Testudines: Cheloniidae).
Herpetozoa
Austrian Herpetological Society
1013-44
2009

22(3/4)): 137-143

1.125
20.
Gunanidhi Sahoo, B.K. Mohapatra, and S.K. Dutta
Structural changes in olive ridley turtle eggshells during embryonic development
Herpetological Journal
British Herpetological Society
0268-01
2009

(19): 143-149

1.338
21.
Gunanidhi Sahoo, R.K. Sahoo and P. Mohanty-Hejmadi
Calcium metabolism in olive ridley turtle eggs during embryonic development.
Comparative Biochemistry & Physiology, Part A
Elsevier
1095-64
1998

(121):91-97

2.32
22.
Gunanidhi Sahoo, B. K. Mohapatra,R. K. Sahoo and P. Mohanty-Hejmadi
Ultrastructure and characteristics of eggshells of the olive ridley turtle, Lepidochelys olivacea, from Gahirmatha, India.
Acta Anatomica
Karger press
0001-51
1996

261-267

2.481
23.
Gunanidhi Sahoo, B. K. Mohapatra,R. K. Sahoo and P. Mohanty-Hejmadi
Contrasting ultra- structures in the eggshells of olive ridley turtles, Lepidochelys olivacea, from Gahirmatha, Orissa.
Current Science
Current Science Association, India
0011-389
1996

246-248

1.102
Sl No
Name of the Candidate
University
Title of the thesis
Subject
1
Laxmipriya Padhi
(Awarded)
Maharaja Srirama Chandra Bhanja Deo University
Studies on oral micro-flora of venomous and non-venomous snakes
Life Science
2
Syed Asrafuzzaman
(Awarded)
Utkal University
Ecology and natural history of some anuran tadpoles from eastern India
Life Science
3
P Gowri Shankar
(Continuing)
Maharaja Srirama Chandra Bhanja Deo University
Astudy on population genetics of King cobra, Ophiphagus Hannah (Canter- 1836: Serpentes: Elapidae) across peninsular India
Life Science
4
Susmita Mahapatra
Maharaja Srirama Chandra Bhanja Deo University
Resource partitioning in some anuran tadpoles of temporary ponds from northern Odisha
Life Science
5
Jasmin Rout
(Continuing)
Utkal University
Developmental plasticity of  tadpoles of Duttaphrynus melanostictus with reference to breeding seasons and habitats
Zoology
6
Udit Pratap Das
(Continuing)
Utkal University
Diversity and ecology of moths (Lepidopera: Insecta) of Chandaka-Damapara Wildlife sanctuary, India
Zoology
7
Binita Murmu
(Continuing)
Utkal University
Characterization of myoststin gene in carps
Zoology
8
Subrath Ranjan
(Continuing)
Utkal University
Genetic diversity of Olive Ridley turtles of Odisha
Zoology
Title of the project
Funding Agency
Period
Amount received in Rs. (Lakhs)
Principal/
Co- Investigator
Epidemiological study of snakebite incidence in Mayurbhanj District and assessment of their antibiotic prophylactic therapy
UGC, New Delhi
2010-13
9.41
Principal Investigator
Systematics of select amphibian species using their larval morphology and ontogeny
SERB, GOI
2013-16
38.438
Principal
Investigator
Microbial diversity of Olive Ridley turtles rookeries of Odisha
DST, Govt. of Odisha
2021-24
9.56
Principal
Investigator
Erasmus Mundus India to Europe (EMINTE) fellowship under Academic Staff Exchange category: Uppsala University, Sweden, 2015.
Attendee/Organization of Refresher Course/Workshops/ Trainings, etc.: 12
Attendee of Faculty Development Programme (FDP): six
Journal Reviewing: List of Journals.
Reviewer: Annual Research & Review in Biology, Veterinary and Animal Science, Scientific African
Associated with Administration, IPR Cell, SWAYAM-MOOC, Central Instrumentation Facility, Centre of Excellence, students' residential life as hostel superintendent, Departmental Alumni Association (Vice President, Zoological Society of Orissa (Secretary).
Vani Vihar, Bhubaneswar, December 06, 2021