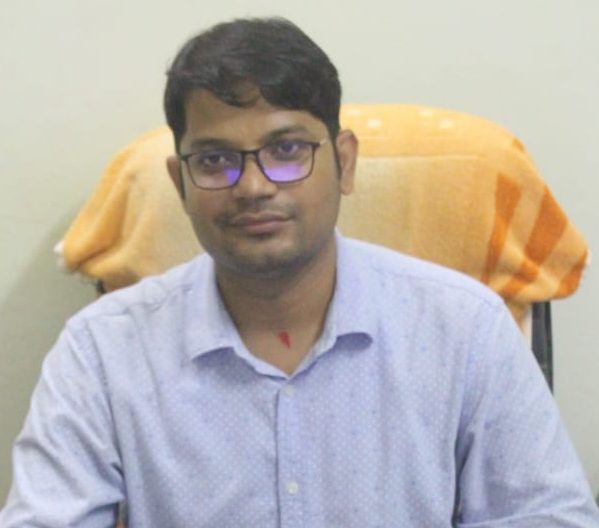 University of Hyderabad
July, 2008 – June, 2019
Ph.D.
Department: History
Thesis Title: From Resistance to Incorporation: The Paiks of Orissa during the Colonial Period, 1803 AD-1947 AD
Areas: Modern Indian History
Advisor: Dr. Vakulabharanam Rajagopal
University of Hyderabad
July, 2004 – June, 2006
M.A. Degree
Department:History
Ravenshaw (Auto) College,Utkal University
July, 2001 – June, 2004
Bachelor of Arts
Department: History
Hons: History
UGC
December,2005
UGC-NET
Subject:History
| | | |
| --- | --- | --- |
| Utkal University | 2nd April  2015 –present | Assistant Professor |
Department of History, Utkal University since 2nd April 2015.
Course Name– M.A. History
Twentieth Century World (HIST-C-04)
History of Science and Technology in India(HIST-C/AE/FE-10)
Economic History of Modern India (HIST-CE-15)
India since Independence (HIST
Book Articles (Authored/Edited)
"Quest for Identity: History, Literature and Regional Consciousness in Colonial Orissa", in Ramesh Chandra Sahu (ed.), India at a Glance, Bhanjanagar: Loharkhandi Sahitya Sansad, 2015, ISBN No: 978-93-84415-32-7.
Journal Articles
Vocalisation of Oriya Women through Education during Colonial Period, UHRJ, Vol. XXXI, Bhubaneswar, ISSN No. 0976-2132, 2018
Invoking the Past: The Paiks and Identity Formation in Colonial and Post-Colonial Orissa, UHRJ, XXX, Bhubaneswar, ISSN No. 0976-2132, 2017
"Utkal Sammilani and Politics of Vernacular Nationalism in Colonial Odisha, 1903-1936", Utkal Historical Research Journal, ISSN No. 0976-2132, 2015.
Refereed Conference Publications
'Writing 'own' History: Early History Writings and Identity Formation in Colonial Orissa', Proceedings of South Indian History Congress– 32 Session, 2012, Chennai.
Invited Talk
"Does History Matter", Dept. Of History, Salipur Autonomous College, Cuttack, 22th February 2021
"Dayananda Saraswati and his Philosophy" at Raja Madhusudan Degree College of Science & Education, Patia, Bhubaneswar, 18th February, 2020.
" Prof. Henry David Thoreau and Gandhiji's Satyagraha", All India Radio, Cuttack, (Date and Time of Broadcast:25.05.2018 at 8:30 AM)
Conference Paper
"W.W. Hunter and Orissa" in the International Conference on Reconstruction of Indian History: society & religion, Berhampur University, Berhampur, 14th– 15th February, 2020.
"Salvation Army in India", Odisha History Congress-40 Session, Kshetra Mohan Science College, Ganjam, 27th -28th January 2019.
"Orissan Economy during Colonial Period: An Overview" in the International Seminar on International Excellence for Economic Growth organised by NITI Aayog & PG Department of Commerce, Utkal University on 28th – 29th January, 2018.
"Migration in Colonial Orissa: An Overview", National Seminar on Socio Cultural Aspects of Labour Migration in Odisha: A Historical Perspective, Department of History, Berhampur University, 25th & 26th March 2017.
"Invoking the Past:  The Paiks and Identity formation in colonial and post-colonial Odisha" International Conference on Indian Cultural Heritage: Past, Present and Future, DDCE, Utkal University, 18-20 March 2017.
"Philosophy of Bhim Bhoi", Orissa History Congress- 37 Session, Dept. of History. Utkal University, 30th – 31st January, 2017.
Attended the "Faculty Development Program on recent Advances in Political science and International Relations" during 13/12/2021 to 19/12/2021 organised by HRDC FMU, Balasore, Odisha.
Attendee of Faculty Development Programme (FDP) in "Leadership and Excellence", From 7th to 11th September 2020 at Utkal University.
Attendee of Refresher Course in "Contextualizing Social Sciences in the Current Knowledge Ecosystem", From 8th to 28th June 2018 at HRDC, Utkal University.
Participated in the "Orientation Programme" in the theme "Capacity BUilding in HIgher Education" from 18th Aug to 14th September 2017.