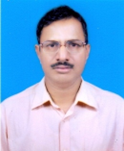 Born on 14th of July, 1965 in the Village Chital Pur of Puri district, he had his schooling from Sri Purusottam Pur High School and graduation from S. C. S. College, Puri. He passed his M. Sc. in Botany from P. G. Department of Botany, Utkal University, Bhubaneswar in 1988; qualified NET in 1988 and Ph. D. in 1991 from P. G. Department of Botany, Utkal University under the supervision of Prof. Rama Chandra Mohanty, former Professor in the Department.
Dr Mohapatra began his professional career as a Jr lecturer in Botany under Class II OES and joined in Bhadrak Autonomous College, Bhadrak on 07.09.1992. He was awarded with the Post-doctoral Research Fellowship by Alexander von Humboldt Foundation, Bonn, Germany and worked in FB Oekologishes Pflanzenphysiologie, University of Rostock from 28.10.1993 to 31.08.1995 on the topic "Effect of dimethoate on photosynthetic pigment fluorescence and thylakoid membrane integrity of Synechocystis sp. PCC 6803". He joined the P. G. Department of Botany, Utkal University, as lecturer on 20.04.1998. He again availed the AvH fellowship from June 1998 to Dec 1998 at FB Oekologishes Pflanzenphysiologie, University of Rostock and Department of Plant Physiology, University of Dusseldorf. During 1998 to 2001 he had academic visits to Florence, Italy and Upsala, Sweden.
Dr Mohapatra joined as a Reader on 17.05.2004 and headed the department of Botany from 01.06.2004 to 31.05.2005. He left the department on 02.07.2008 and joined as Professor and Head, Department of Environmental Sciences, Fakir Mohan University, Balasore. He again resumed his duty in the department on 06.12.2008. He was relieved from the department on 29.03.2010 to join as Professor and Head in the Department of Botany, Ravenshaw University, Cuttack and since then working in Ravenshaw university. He was selected for LEAP programme of MHRD, Govt. of India and had Academician Leadership trainingc at Jamia-Melia-Islamia, New Delhi and University of Virginia, Charlottesville, USA.
His research interests are in the field of photosynthesis, pigment fluorescence, thylakoid membrane functions and bioenergetics. He works on the impact of pesticides and other biotic and abiotic stresses PS II functions and photoelectron transport. He is teaching photosynthesis, enzymology, algology and biostatistics. He has authored three text books, one reference book, has edited five conference proceedings, 91 research publications, 41 articles in conference proceedings, four book chapters, and 17 popular articles in English and Odia. He has research grants from UGC, DOS, CSIR, ICAR and ISRO. Sixteen students have been awarded with Ph. D. Degree under his supervision.